Protecting Health and Safety
This website will be updated to reflect the 24-hour Risk Screening Level announced by EPA at the May 22nd public meeting.
Honeywell is implementing a detailed Health and Safety Plan approved by EPA and NJDEP. Every site worker is authorized to stop construction work if he or she observes unsafe conditions. All construction workers are trained to comply with Occupational Safety and Health Administration (OSHA) requirements and participate in daily safety meetings.
Monitoring Air Quality
A major component of the Health and Safety Plan is its air quality monitoring program which has the primary objective of protecting workers and the surrounding public. The program, which addresses odors, dust prevention, and best practices to meet government air quality health standards, includes both on-site and perimeter monitoring.
In October 2016, five background air samples were taken over the course of two weeks. This background data, which was collected before any intrusive, below-ground activities began, was used to quantify the existing levels of any dust and volatile organic compounds (VOCs) already in the air before the work started. It also was used by the agencies to finalize action and alert levels in the air monitoring plan. Action levels, which are set above the background levels, define the steps the contractor will take to meet the plan's air requirements.
The air monitoring system includes multiple fixed and mobile units that are positioned around the site to provide coverage for wind coming from any direction. Air is monitored for dust and site-related contaminants. There are three parts of the air monitoring system:
Real-time monitors measure dust and total volatile organic compounds (TVOCs) in air at the perimeter of the site as work is occurring. Sensors alert at a low "warning level" to allow action to be taken before dust or site-related contaminants reach government action levels. A full-time air quality specialist monitors the system and is authorized to stop work if necessary. These results are posted below, normally within one business day. Because there is a potential for odors to linger in the air after the work day, we have extended the air monitoring program one hour beyond when work activities end for the day.
Air samples are collected for off-site laboratory analysis of 17 VOCs that are present in the soil at the Quanta site. (See map below.) The results are compared with Risk Screening Levels (RSLs) and used to evaluate and adjust emission control activities, if necessary, and to assess and report on potential human health risks. More about RSLs here.
Off-site Air Sampling (Fall 2017)

Off-site air quality was monitored for two weeks (October 23 - November 3, 2017) at one iPark location and two Independence Harbor locations to determine if, and to what extent, volatile organic compounds (VOCs) associated with the Quanta site were migrating off-site.
Two samples were collected per day. One air sample was collected for 8 hours and one sample for 24 hours to evaluate any differences between working hours and non-working hours.

Off-site Air Sampling (2018)

Off-site air monitors collect air samples at City Place (three locations), The Promenade (one location), Independence Harbor (one location*), iPark (three locations), and The Metropolitan (one location) to gather additional data to determine if, and to what extent, VOCs associated with the Quanta site are migrating off-site.
Two samples are collected per day at each monitoring site (including perimeter air sampling fence locations). One air sample covers 10 hours and one sample covers 24 hours, to evaluate any differences between working hours and non-working hours.
EPA will continue to monitor the sampling results from all off-site monitors and may select other sampling locations as needed to optimize the offsite air monitoring.

*At the start of the off-site monitoring program there were three locations at Independence Harbor. Results consistently registered as non-detect for naphthalene, with other site-related contaminants non-detect or well below the conservative risk screening levels. Therefore, to better evaluate potential off-site impacts, two of the units were relocated - one to The Metropolitan and one to The Promenade.
Wind monitors monitor wind direction and speed using a portable weather station located on the site. Wind direction refers to the direction from which the wind is blowing (e.g., a "west wind" blows from the west toward the east.)
Understanding and Reducing Odors
Nature of Odors at Quanta
The Quanta property was the home of a roofing tar plant for more than 100 years. Roofing tar was produced from coal tar. Coal/roofing tar has a distinct odor similar to asphalt or mothballs.
Efforts to Minimize Odors
Extensive efforts are being taken to minimize odors from the coal/roofing tar that remains in the Quanta site soil. However, odors will likely occur when soil containing coal/roofing tar is first uncovered. Additionally, because residual odors may linger in the air after the work day, you may notice a coal/roofing tar smell after construction workers have left the site. How long the odors persist depends on a number of factors, including the intensity of the odor, the length of time the contaminated soil was exposed, and environmental factors such as wind direction, wind speed, and air temperature.
Odors Don't Equate to Health Impacts
EPA and NJDEP have been working with Honeywell to address odors that are associated with coal tar and creosote found at the Quanta site. Coal tar/creosote on the site is a viscous liquid located a foot or more beneath the ground surface. It has a low odor threshold, which means you can detect this odor even at very low concentrations. The odors can be offensive to some people. However, presence of the odor does not necessarily indicate a potential effect on public health. The human nose can detect coal/roofing tar odors at levels below those that indicate a health risk.
For more information about environmental odors, please see this U.S. government fact sheet.
What is Being Done to Address Odors?
Air Monitoring Maps
To view the data collected, select a date from the drop-down list and click "Change" (dates not shown in the list have no data available). Then, move your cursor over a monitor icon to view the data. Click "View wind direction & speed" to see a graph of the wind conditions for the selected date.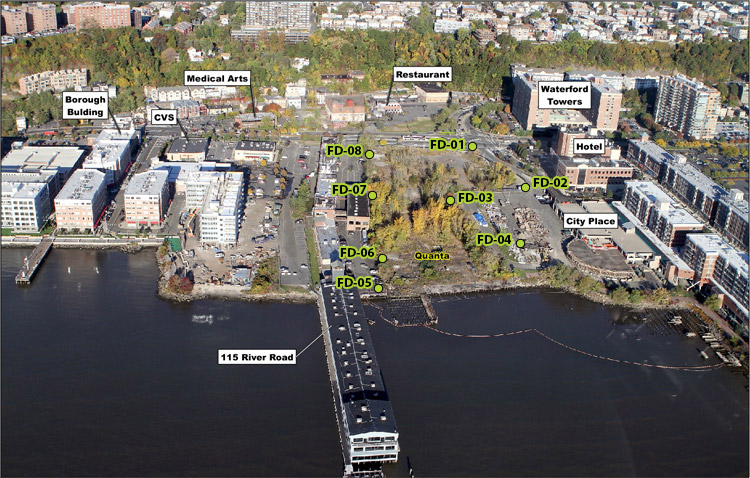 Weather Data
View wind direction & speed gathered on May 24, 2018 from monitor FD-08.
View wind direction & speed gathered on May 24, 2018 from monitor FD-03.
Mobile Unit Data

Locations of Mobile Devices (MD) are adjusted daily based on field operations, wind direction, and sensitive receptors.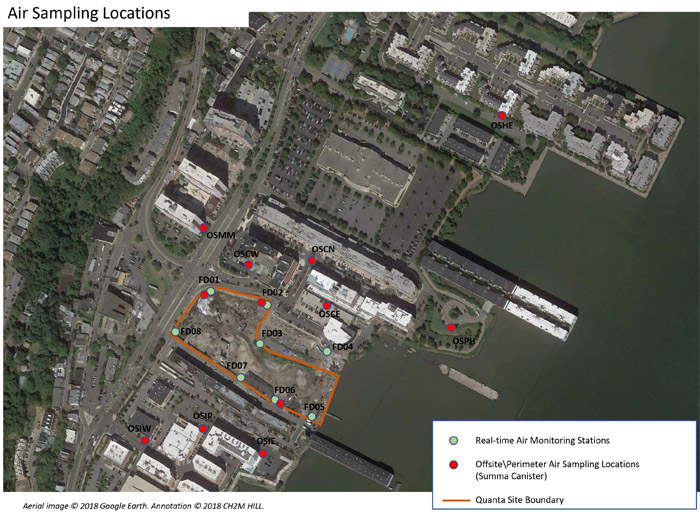 Data provided in hyperlinks above.